Overview
The Achilles tendon connects the muscles in the back of your lower leg to your heel bone. It allows you to move your foot down (?step on the gas? motion). This movement is essential for walking, running, and jumping. A sudden strong contraction of the lower leg (such as when playing sports) can partially tear or rupture the Achilles tendon. This injury is more likely if there is prior injury or inflammation of that tendon from prior stress. You may feel a pop or snap, or like you have been kicked. An Achilles tendon tear will cause local swelling and pain and difficulty in walking. A complete Achilles rupture is usually treated with surgery to attach the torn ends of the tendon. This is followed by 6-8 weeks in a walking cast, boot, or splint. Nonsurgical treatment is an option, but it will take longer to heal and the risk of repeat rupture is greater. With either type of treatment, you will need a physical therapy program to strengthen your Achilles tendon. It will take 4-6 months to return to your former level of activity.
Causes
The most common cause of a ruptured Achilles' tendon is when too much stress is placed through the tendon, particularly when pushing off with the foot. This may happen when playing sports such as football, basketball or tennis where the foot is dorsiflexed or pushed into an upward position during a fall. If the Achilles' tendon is weak, it is prone to rupture. Various factors can cause weakness, including corticosteroid medication and injections, certain diseases caused by hormone imbalance and tendonitis. Old age can also increase the risk of Achilles' tendon rupture.
Symptoms
Following are a few of the symptoms usually associated with an Achilles tendon rupture. Sudden, severe pain, swelling, bruising, difficulty walking. Sometimes a gap may be felt in the tendon. The most common ways an Achilles tendon rupture is diagnosed are clinical history (presenting symptoms). Thompson or Simmonds? test, positive if when squeezing the calf there is no foot movement (passive planter flextion). O?Brien?s test, needles are placed into the tendon; tendon is intact if when the foot is moved up and down, the needle hub moves in the same direction as the toes (opposite direction of the tendon) Ultrasound and MRI, because these technologies involve an added expense, they are usually employed only to confirm the diagnosis.
Diagnosis
Diagnosis of Achilles tendon rupture is not difficult. Usually, the diagnosis is obvious after examination of the ankle and performing some easy foot maneuvers (such as attempting to stand on the toes). When an Achilles tendon rupture occurs, there is often clinical confirmation of tenderness and bruising around the heel. A gap is felt when the finger is passed over the heel area, where the rupture has developed. All individuals with a full-blown rupture of the tendon are unable to stand on their toes. There is no blood work required in making a diagnosis of Achilles tendon rupture. The following are three common radiological tests to make a diagnosis of Achilles tendon rupture. Plain X-rays of the foot may reveal swelling of the soft tissues around the ankle, other bone injury, or tendon calcification. Ultrasound is the next most commonly ordered test to document the injury and size of the tear. For a partial tear of the Achilles tendon, the diagnosis is not always obvious on a physical exam and hence an ultrasound is ordered. This painless procedure can make a diagnosis of partial/full Achilles tendon rupture rapidly. Ultrasound is a relatively inexpensive, fast, and reliable test. MRI is often ordered when diagnosis of tendon rupture is not obvious on ultrasound or a complex injury is suspected. MRI is an excellent imaging test to assess for presence of any soft-tissue trauma or fluid collection. More importantly, MRI can help detect presence of tendon thickening, bursitis, and partial tendon rupture. However, MRI is expensive and is not useful if there is any bone damage.
Non Surgical Treatment
Two treatment options are casting or surgery. If an Achilles tendon rupture is untreated then it may not heal properly and could lead to loss of strength. Decisions about treatment options should be made on an individual basis. Non-surgical management traditionally is selected for minor ruptures, less active patients, and those with medical conditions that prevent them from undergoing surgery. The goal of casting is to allow the tendon to slowly heal over time. The foot and ankle are positioned to bring the torn ends of the tendon close together. Casting or bracing for up to 12 weeks or more may be necessary. This method can be effective and avoids some risks, such as infection, associated with surgery. However, the likelihood of re-rupture may be higher with a non-surgical approach and recovery can take longer.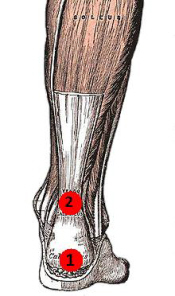 Surgical Treatment
There are a variety of ways to repair an Achilles tendon rupture. The most common method is an open repair. This starts with an incision made on the back of the lower leg starting just above the heel bone. After the surgeon finds the two ends of the ruptured tendon, these ends are sewn together with sutures. The incision is then closed. Another repair method makes a small incision on the back of the lower leg at the site of the rupture. A series of needles with sutures attached is passed through the skin and Achilles tendon and then brought out through the small incision. The sutures are then tied together. The best surgical technique for your Achilles rupture will be determined by your orthopaedic foot and ankle surgeon.
Prevention
Good flexibility of the calf muscles plays an essential role in the prevention of Achilles tendon injuries. It is also important to include balance and stability work as part of the training programme. This should include work for the deep-seated abdominal muscles and for the muscles that control the hip. This might at first appear odd, given the fact that the Achilles are a good distance from these areas, but developing strength and control in this area (core stability) can boost control at the knee and ankle joints. Training errors should be avoided. The volume, intensity and frequency of training should be monitored carefully, and gradually progressed, particularly when introducing new modes of training to the programme. Abrupt changes in training load are the primary cause of Achilles tendinopathy.